The Beginner's Guide to Industrial Diesel Generators and Where They Are Used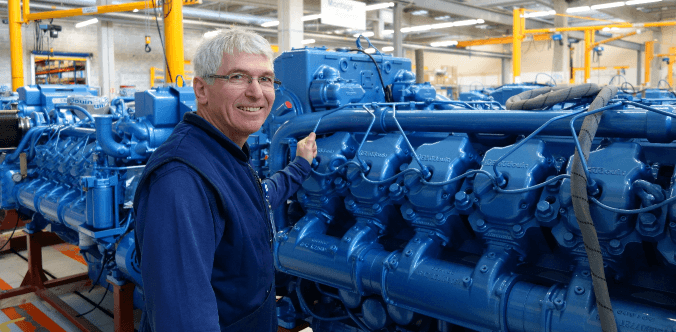 A diesel generator is used to generate electric energy by using a diesel engine . This is done by combining a diesel engine and an electric generator, usually an Alternator. The features of industrial diesel generators are too numerous to count. From their provision of a wide range of power outputs to the cooling function for the generators, this industrial generator set has different unique purposes in various fields. 
Therefore, it is essential to understand the application of industrial diesel generators. And the best way to do that is to have a comprehensive beginner's guide to industrial diesel generators. This knowledge will help you know the different applications and maintain an excellent output level. And this article will help you understand the various applications of industrial diesel generators.
Here are the different industries that rely on industrial diesel generators and their respective contribution to its growing demand.
Mining Operations
Mining is one of the most significant applications of industrial diesel generators. This uses over 70% of this industrial generating set to provide power for their activities. In addition, mining includes different types of heavy equipment like drillers, excavating machines, cranes, etc., that depend solely on industrial dg sets. So it doesn't matter what is being mined; the first choice of every mining company is the diesel generator. And that's because they have low volatility, the needed muscle, are portable, durable, and can easily be used in extreme conditions.
Hospital/Healthcare Needs
Compared to other industries, the healthcare industry is sensitive because they deal directly with human lives. They can't afford to lose power for a short time as, it may result in loss of lives. Industrial diesel generators ensure that doesn't happen. In a loss of power outage, dg sets are the best fit for an emergency backup. They can power heavy equipment like life support machines, including oxygen pumps in the ICU. The hospital has to have enough fuel to last them through the power cut and do an inspection at the end of every week.
Commercial Real estate
If commercial real estates having offices of various IT parks, banks, restaurants etc don't have a dependable power backup, they will lose a lot of money during a power outage. IT sectors will have trouble, and cash registers will experience colossal revenue losses. They might even have to shut down operations altogether. They don't have to experience any of these issues if they have a reliable diesel generator. They will be able to protect their revenue, the interests of their business, prevent loss of clients to competitors, maintain security and protect themself too.
Oil And Gas Exploration Functions
The oil and gas industry is governed by one rule: time. If there is downtime, either a power outage or machine failure, it leads to loss of money. Industrial diesel generators play essential roles in the oil and gas industry. They are used to power equipment for pumping, drilling, and loading. Most oil and gas exploration functions are in remote places, and diesel generators are a perfect choice.
Optimal Flow in the Manufacturing Production Lines
Manufacturing production lines can experience poor quality and low volume production if there is a slight disruption in their power supply. A blackout means targets are not met, the safety of workers is compromised, disruption in regular schedules, product quality is affected, etc. A reliable industrial diesel generator is the best emergency backup for power supply if that happens. It will protect the company from incurring heavy losses.
Data Centers Need Power 24/7
Data center systems and components are expected to work constantly and require reliable, uninterrupted power 24 hours a day, 7 days a week. If there is any lapse in power, files can be lost or can become corrupted, mainframes can malfunction, and that can result in lost profits. Unfortunately, most data center components are susceptible to high power spikes due to switching from normal to emergency power supplies. This means that a total system restart is usually required, even if the components only lose power for a single moment. This leads to system downtime, potential startup issues, file corruption, and information being processed at the time could also be lost. Data centers need a durable and reliable industrial diesel generator to ensure uninterrupted power 24/7/365.
Constant Power in Safety Procedures of Educational Institutions
Educational institutions, especially universities, rely on constant power to do most of their activities. Power disruption means that these can't be possible. Data centers and IT security systems in the institution can also get compromised if there is a power outage. A reliable diesel generator will help the schools provide the needed safety for its students.
Final Thoughts
Understanding diesel engines and their various applications will help you get familiar with the different industries that use them. If you are in any of these industries and have been looking for a reliable emergency power source, industrial diesel generators are the perfect choice for you.
---