Providing Uninterrupted Power Supply To Amazon Warehouses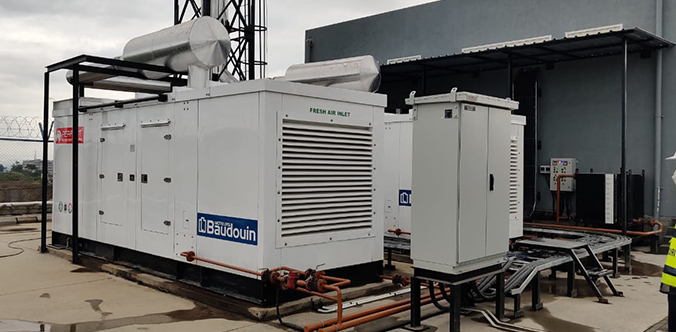 Ecommerce sites have made our lives easier in every way that we can imagine. Hasn't it? You order an item today and it gets delivered to you in a day or two. Have you ever thought about how all this happens so seamlessly? E-commerce giants work along with a big team, day in and day out, to deliver your package at your doorstep with little or no inconvenience at all. No matter how easy it seems to us, managing a warehouse is no cake walk. There are multiple challenges that the team has to tackle. One of the biggest challenges is power outages.
Power cuts can affect a warehouse immensely as a lot of the processes are dependent on steady flow of electricity, especially when it is fully automated. Proper lighting, ventilation, air-conditioning, data management, product scanning, and forklift operation are some of the prerequisites to ensure proper logistics management. A little damage can not only cost money but also hamper customer relationships.
Such was the case with Amazon warehouses in Pune and Jaipur where power outages made it difficult for warehouse staff to ensure proper product inspections and deliveries. Let's dive deeper into understanding the problem case and how Baudouin helped Amazon resolve the challenges.
The Case: Fluctuating power supply
Amazon warehouses located in Pune and Jaipur are considered as the busiest warehouses in India. These warehouses are fully automated and need a steady supply of electricity to ensure smooth operation. Despite being located in the industrial hub in both cities, power outages remained a big reason behind disrupted speed, efficiency and productivity.
The Challenge: Power outage leading to other concerns
Amazon warehouses are fully automated and power cuts can cause a huge problem as the delivery dates are committed and a slightest delay can result in huge business loss. Here are some of the major challenges faced by Amazon
Poor inventory management
Unsatisfactory order management
Inefficient data management
Difficulty in scanning product information
Ensuring timely amazon prime delivery
The Solution: Installing power generators
Baudouin generators provided Amazon with the power they can trust. Our team helped Amazon warehouses by installing power generators in Jaipur and Pune with an uninterrupted power supply of 1 x 250kVA and 2 x 400kVA respectively.
The Result- Trusting the power made it all worth it
Collaboration with Baudouin helped Amazon find the real hero when they needed it the most. Power generator from Baudouin enabled Amazon:
Ensure smooth operations
Improve logistics management
Open doors to more business
Better customer relationships
Enhance productivity
Baudouin is a provider of a wide range of diesel power generators that can be installed and used for various industry verticals. These power generators are designed and built with perfection and backed by HPCRS (High pressure common rail system) technology, so they can sustain heavy workloads and deliver uninterrupted power supply for your operations. Baudouin offers 3S (Sales, service and spare parts support). With our expertise available across PAN India, we ensure that customers receive immediate attention and support regarding engines, aggregates or complete equipment through a single window.
---