The History And Legacy Of Baudouin India: Here Is Everything You Should Know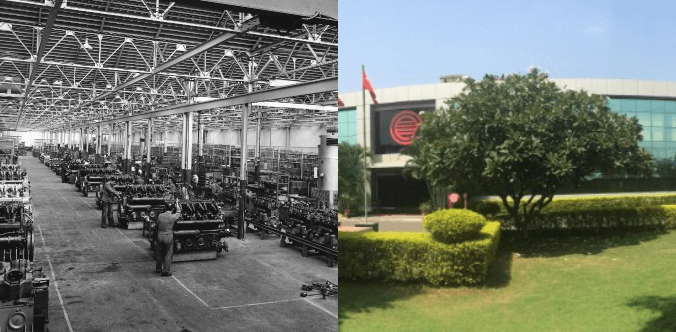 Baudouin is a globally renowned engine manufacturing company with Indian operations based out of Pune, India. Offering a wide range of diesel and gas engines customized for the Indian market, Baudouin extends the same trust, reliability & dependability that it's known for over a century worldwide. With over 100 years of legacy in industrial equipment manufacturing, Baudouin brings futuristic European technology to meet the growing power needs in India. 
Today, with OEAs and channel partners across India, Baudouin India has become a prominent name in the industrial engine manufacturing industry. However, this engine manufacturer in India had humble beginnings in the small town of Marseille, a prominent port city in France. Eugene Baudouin owned a metal foundry towards the end of the nineteenth century, where he commanded a workforce turning metal into anything from massive church bells to small wrist watch "movements."
Let's see how this metal foundry business in 1900 became one of the largest engine manufacturing companies globally today.
Starting small with the first Baudouin diesel engine
Eugene's sons, Richard and Charles Baudouin grew up seeing their father work in the harsh, brutal climate of the foundry. Charles became interested in mechanical engineering and in 1904, showed his most recent experiment: a canoe with a small petrol-fueled engine. Charles carried the canoe to Toulon, France, to put his new craft to the test. He then set sail across the Mediterranean's azure waves. It may have seemed impossible, yet he drove it to Algeria's coast, a distance of over 750 kilometres!
The Baudouin family had no idea how crucial that small canoe would become. It would be the first official 'Baudouin engine' and the start of a family brand that would eventually dominate the marine propulsion industry. Marseille was the busiest port in France, if not the entire Mediterranean, in 1919. Because of the increased shipping activity, the Baudouin workshop grew famous among the local marine commerce.
They offered rudimentary petrol engines with a maximum output of 5 horsepower. Baudouin began producing larger batches of their engines as the demand increased, bringing production to a much grander scale. As a result, more people started working at the workshop, and the business grew. The company then entered a new age of manufacturing as the new decade approached.
Booming business after first World War
Baudouin experienced a new phase as the 1920s began. The previous decade's made-to-order engines were no longer available. Instead, the company's first-ever product 'range,' developed to fulfil the demands of the marine industry, took their place. The new range of petrol engines, introduced in 1922, covering a range of outputs from 3 to 60hp, simple and robust. These two words have remained Baudouin's attitude to this day.
The DA, Baudouin's first diesel-powered engine, was released into the market shortly after the Wall Street Crash of 1929, just as the globe was facing a severe economic crisis. However, like their engines, Baudouin was able to weather the storm, and the DA was a significant success. Engines were selling well both domestically and across the French-speaking territories of North Africa, and the business was booming.
By the decade's conclusion, Baudouin was one of the world's top three marine engine manufacturers.
Expanding the product line to need for speed
Baudouin began development on a follow-up to their first DA diesel engine, fueled by the original's success. The DB series, introduced in 1930, was a groundbreaking new product line with 2, 3, 4, and 6 cylinders and outputs ranging from 25 to 90 horsepower. Baudouin remained at the forefront of breakthrough engines that produced and indeed fueled success for another decade.
No longer just manufacturing the engines, the Baudouin catalogues now offered an array of gearboxes, propellers and diesel generators. Baudouin diversified its range and started manufacturing power generation engines for some of Europe's biggest Original Equipment Manufacturers (OEMs).
From Need for Speed to New Identity
From then on, Baudouin proceeded to prepare the GV range (8 and 12 cylinders). Clients mostly used them in a variety of marine applications, making them more successful. The line cemented Baudouin's place as one of the world's leading marine manufacturers. The company's product range was expanded further, which contributed to its success.
In the early 2000s, Baudouin ventured into the power generation sector, recognising an opportunity and drawing on the knowledge and experience of generator drive engines in the 1970s and 1980s. Thus, the PowerKit family of diesel engines for power generation gave birth to a new business category.
Baudouin India: Bringing 100+ Years of Power Generation Legacy
Offering the most significant product line in the company's history, Baudouin India diesel engines have a wide product range from 250 kVA to 3300 kVA making it one of the most comprehensive in the power generation business. Baudouin India has a smart, state -of-the-art manufacturing facility in Pune with dedicated service network across 100+ locations across India. The diesel engines manufactured in India are compliant to current emission norms of CPCB II.Marine DNA runs through our veins and reflects in each engine made.Engines from Baudouin are rugged, dependable, and simple to service with low total cost of ownership. Being one of the pioneers in industrial equipment manufacturing in India, we bring European technology to address all your power needs.
---